Ok, I know that there are loads of posts out there about fall at the moment. So many in fact your probably feeling a bit of frost bite at having to read yet ANOTHER post.
(1)
No...sadly not one of my pictures =(
Honestly, I'm pretty partial to both ends of the year. I love spring and fall equally. They each have their advantages...each gives you something new and different to look forward to - warmer / cooler weather, vacations / holidays. They each have their own smells, their own vibrations in the world. For those of us that are visually inspired
(2)
there is always something new to see, something to fall in love with all over again, something with which to find awe, inspiration, motivation, and purpose.
But fall always brings one extra thing that, especially here in the Middle-of-Nowhere Missouri, is a sure fire sign that fall has arrived and winter is just around the corner....
The visual assault of camouflage. EVERYWHERE! On EVERYTHING and EVERYONE! Now I don't mean that it's an occasional jacket or t-shirt. Nope. That would be simple. It wouldn't be to the point of verging on chronic temporary closet blindness. Nope, something that small and insignificant could go almost unseen.
(3)
No, when fall arrives in these parts the influx of camouflage into one's field of vision is so extreme it's like US Army bases within a 5 state radius convoy their way here to puke the horrible color patterns all over our lovely state.
It. Is. Horrible. Blech!
I was walking through Walmart the other day, pushing my groceries around trying to find a line that didn't stretch all the way back to the electronics department
(4)
, and there was a guy standing in line wearing camouflage boots, overalls, and hat.
"Eh - is that all?!" I hear you ask.
Of course not! Would I really make a think
(5)
out of camouflage if there wasn't more! Sheesh! No, that's definitely not all... He was holding on to one single, solitary item.
"Well, what was it already?! Geez...you always drag shit out...it gets really annoying." I hear you grumble in my direction.
Well...I....oh shuddup! =-p It was a shirt, ok?! It was damned thermal henley style shirt.
In camouflage!
Blech!
I really, really hate camouflage!
On the funny side though....military units worldwide should always be very vigilant with camouflage or things could get sticky with the brass....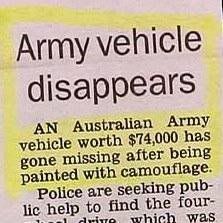 (1) Yeah - suck it up. I could care less. Grab a thermal blanket, pop a thermometer in your mouth and be a good stalker!! =-p
(2) Or those of us that are easily distracted from the task laid out in front of us! *snort* =)
(3) Bahahahahahahaha! I crack myself up! *snort!*
(4) Hey! That's not a bad idea. At least then I could stand there and watch a rerun of a football game on one of the 50,000 TVs rather than trying to find something else to look at that doesn't include the toddler in front of me that's picking his nose and devouring the treasure that's been unearthed. Note to self: Pick the line closest to the electronics department.
(5) And yes...I said think instead of thing! =-p Some people have bowel movements, I have thinks! Get over it! It's all about the same damned thing in the end! =-p
Happy fall, y'all!
Jewell =) xo