So this past week when we had no internet here at the house we had to work the whole time from our office. One of those days the husband him had actually gotten up before me and was already there by the time I woke up. After finishing my normal round of chores for that morning I drug myself into work to start the rest of the day.
Now one piece of cloth that I keep in my house for drying my dishes when I am done washing them
(1)
are those cotton flour sack cloths. They are great at drying the dishes, they last forever, and they aren't bulky for the storage
(2)
. I got so sick of the husband him using my dish drying cloths to dry his grubby paws that I decided that, before a divorce court needed to decide which cats lived with which parent, I had best buy him his own so that he'd stay out of mine.
Well at some point he, for whatever reason that made logical sense in the man brain, decided to take one of his cloths to the office. When I arrived at work there was one sitting on one of the chairs. Of course I grabbed it up, took it into his part of the office and asked why this was laying around on my side of the office. He said he had set it there because he was going to bring it home to be washed on laundry day. Ok fine. I put it with my stuff so that I would remember to take it with me on my mid-day jaunt back to the house to change vehicles and do afternoon animal chores.
Mid-afternoon arrives, I gather up my stuff, grab the cloth and go to tell the husband him I'll be back later for us to get dinner. He looks at me sheepishly, noticing that I am holding the towel casually in my hand, and says, "Oh, you might want to wash your hands after touching that. I wiped down the toilet with it."
WHAT!?! Gah! *shudder* Ugh! *dry heave* Crap! You didn't think to mention this the FIRST time I had picked it up and brought it in to ask you why it was on my side of the office? REALLY?!
While I am trying to process this atrocity to my being and avoid my first (and potentially severe and life threatening) case of hyperventilation, my brain starts winging it's way out of control like it has said sayonara to the confines of my skull and took off to hitch a ride on some wildly possessed spinning carnival ride.
Why? Because I would bet money that there isn't a man alive that can pee a straight line right into the biiiiiiiiiig hole right in the middle of the fucking toilet - that's WHY! I have cleaned too many damned toilets over time to ever be convinced that that sort of an event could occur before a pig growing wings and learning how to break the damned sound barrier - that pig is significantly more plausible than any man, any age, any stature peeing IN a toilet as opposed to on, over, or around it!
Guess what the first thing that I did when I got home was.....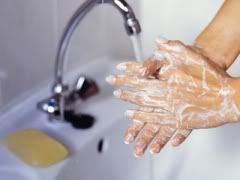 (1) - Yes, I am old school enough to wash my own dishes rather than trust a dishwasher, and yes I have the dishpan hands to prove it. =-p And no, I am not taking a picture just to prove it to all of you so deal with it...go wash your own dishes, dry your hands, and then look at them and pretend they are mine!
(2) - Not to mention that they generally are super-uber cheap which always weighs heavily in my decisions! =)
ACK!
Jewell =) xo